Oakland-based architecture and interior design firm Arcsine has completed the first phase of public space renovations at the Sheraton Palo Alto in California.
Starwood Hotels & Resorts and owner Pacific Hotel Management tapped the firm for updates to the property's lobby, registration, bar, pool area, club lounge, and the 6,500-square-foot Cypress ballroom.
Originally built in 1972 by architect Clement Chen Jr., the hotel was renovated during 1980s and 2000s, resulting in a blend of architectural styles. Arcsine drew inspiration from the building's original '70s-style architecture and from the entrepreneurial spirit of the surrounding Silicon Valley area. The renovated public spaces now reflect a cultured, connected setting designed for social interaction through clean lines, curated artwork, and contemporary California-inspired finishes.
For the entry from the porte-cochère into the lobby, Arcsine added creamy porcelain floor tiles and refinished the existing wood ceiling, reinstating it as a design feature. Clerestory windows and a 20-foot glass pyramid skylight in the center of the space flood the lobby with natural light. A brushed brass sculpture hangs below the skylight, serving as a vibrant focal point in the lobby.
In addition to installing new decorative lighting, flooring, screens, artwork, and furniture, Arcsine excavated a tree that previously stood in the center of the room and removed an existing wall that separated the lobby from the bar. The new 12-foot opening connects the two spaces and expands the reach of the natural light that flows into the bar and registration area. The lobby also features wooden screens with a custom pattern based on Frederick Law Olmsted's master landscape plan for Stanford's campus.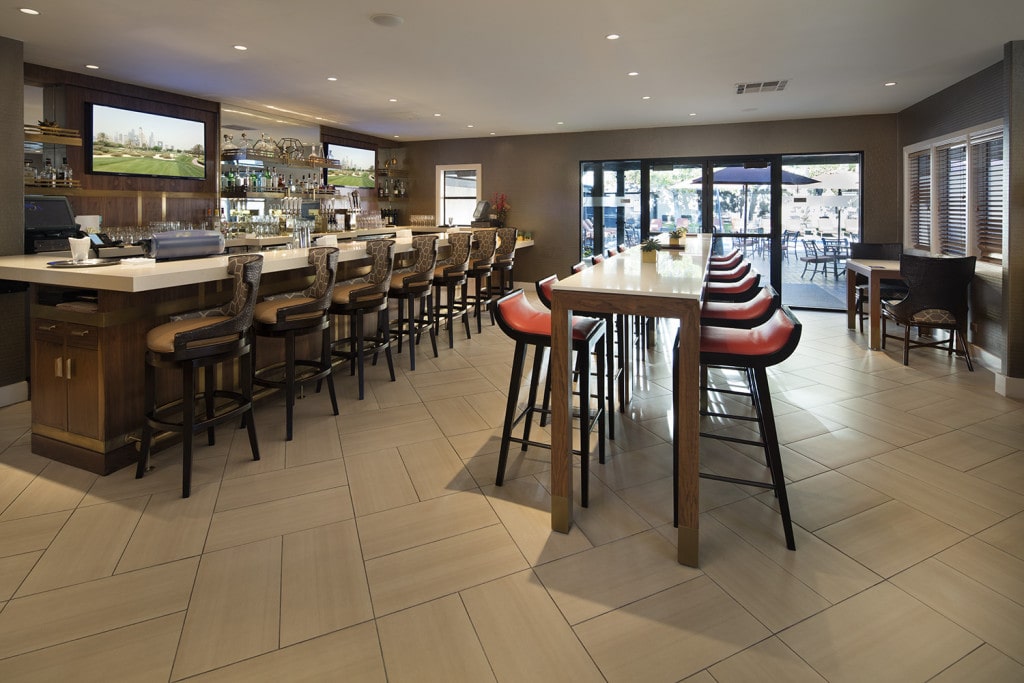 The walnut of the lobby was extended into the millwork throughout the bar and lounge to create continuity, while the bar itself was reimagined to evoke a brass bar cart, highlighted by a combination of gallery shelving and mirrors with brass and walnut accents. Additional features include new stone countertops, decorative lighting, and furniture.
Since Stanford University is located just minutes away, the bar area has long served as a popular gathering place for Cardinals fans or others attending events at the school. The art program thoughtfully marries tasteful nods to old-school Stanford with a modern take on classic materials. In the seating area, a panoramic photo of a 1920s Stanford football game sits above the new 11-foot-long freestanding banquette, while a painting of former Stanford Cardinals head football coach Bill Walsh is offset by a collection of framed mirrors.
The property's next phase of construction will upgrade its 284 guestrooms, and is slated for completion by the end of the year.
http://www.hospitalitydesign.com/news/hotels-rest-wellness/Arcsine-Completes-First-Phase-of-Sheraton-Palo-Alto-Renovations-15355.shtml