CONTEXT
The Periodic Table is a sake bar and taproom located in Emeryville's Public Market. With the mission to make sake more approachable, every inch of the 400 square foot space is fitting for an intimate and educational bar experience. The overall design is contemporary with roots stemming from the owners' passion for geometry and chemistry. Half-hexagon patterns, inspired by the benzene molecule, are a recurring visual element throughout the space.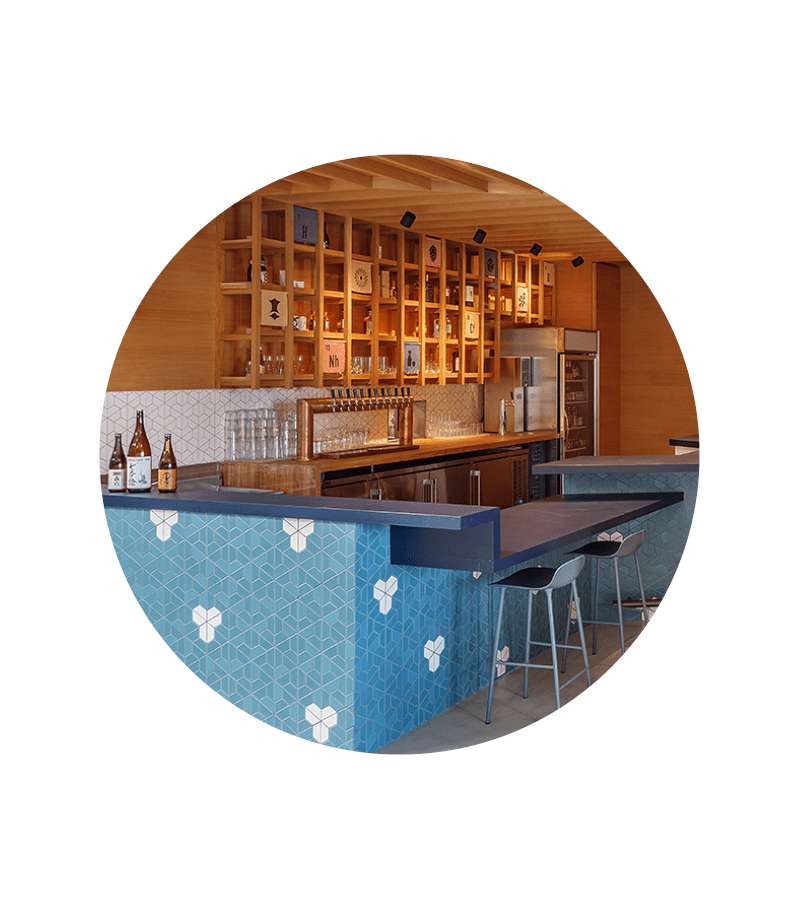 Elements of Sake
The back bar shelving is a three-dimensional representation of the Periodic Table of Elements, and its construction was influenced by Japanese joinery and craftsmanship. Colorful fabric panels inspired by Japanese Noren are screen-printed with chemical elements, adding a playful touch to the focal display. Adjacent shelves display unique Japanese liquor bottles, chemistry lab flasks and sake glassware.

Natural light pours in from the Public Market's oversized warehouse skylights, creating a bright and welcoming vibe for those who may be new to the world of sake.

DETAILS & RESULTS
To encourage conversation, the bar projects outwards as a half hexagon, allowing the bartender to come closer to guests. Those sitting at the bar can rest their drink of choice on a dark blue counter-top made of recycled paper. The bar die is decorated with a mosaic of blue half-hex tiles with white accents.
Additional geometric patterns are featured along the wall opposite the bar. Laser-cut oak panels comprised of half-hex patterns are mounted offset from the wall behind, allowing shadow and light to play above the shallow counters that line the perimeter. Comfortable bar stools make for easy perching with a beer or sake in hand, while pendant lights, shaped as Erlenmeyer flasks, accent the space.
Wood joists span the length of the space, creating a ceiling plane while celebrating the taproom's space-within-a-space nature. The joists reference traditional Japanese architecture and allow natural light to pour in from the Public Market's over-sized warehouse skylights, creating a bright and welcoming vibe for those who may be new to the world of sake.
To learn more about the origins of The Periodic Table, read our interview with owner Jake Freed here.
COLLABORATORS: UPCYCLE BUILDERS, JAKE FREED, HIROKO NAKAMURA, MICHAEL SCHEIMAN.