SPANISH FLAIR MEETS CALIFORNIA MOD
Telefèric Walnut Creek
Design introduces vibrant colors and playful geometric patterns,
evoking a casual sophistication.
FAMILY MINDSET
When it comes to executing successful projects, we truly believe the more team members the merrier. Xavi Padrosa, the son of Telefèric's founder, Soledad Urabayen, decided they were ready to bring the family-owned restaurant group behind one of Barcelona's most beloved tapas destinations to Walnut Creek, California. As its first location outside of Spain, Telefèric tapped BH Development, Dos Ojos Hospitality and Arcsine to create a contemporary and welcoming space by adapting the Spanish restaurant's concept of art, culture and authentic cuisine for the California market.

Rather than constructing walls to segment the various dining areas, we positioned the bar to strategically create subtle dining zones accented by vibrant colors and playful geometric patterns, evoking a casual sophistication.

COHESIVE ENERGY
Telefèric is located in a high-profile downtown setting in a newly constructed building with sharp angles, industrial steel elements and modern lines. Curves incorporated into the complex geometry make the space feel softer and introduce a connected, cohesive energy. Guests are greeted by an open kitchen with tapas and pintxos on display or chalkboard menus and counter seating for those who want to grab a quick bite to eat. The adjacent main dining room features wood tables and large operable windows, allowing natural light or a gentle breeze to flow through.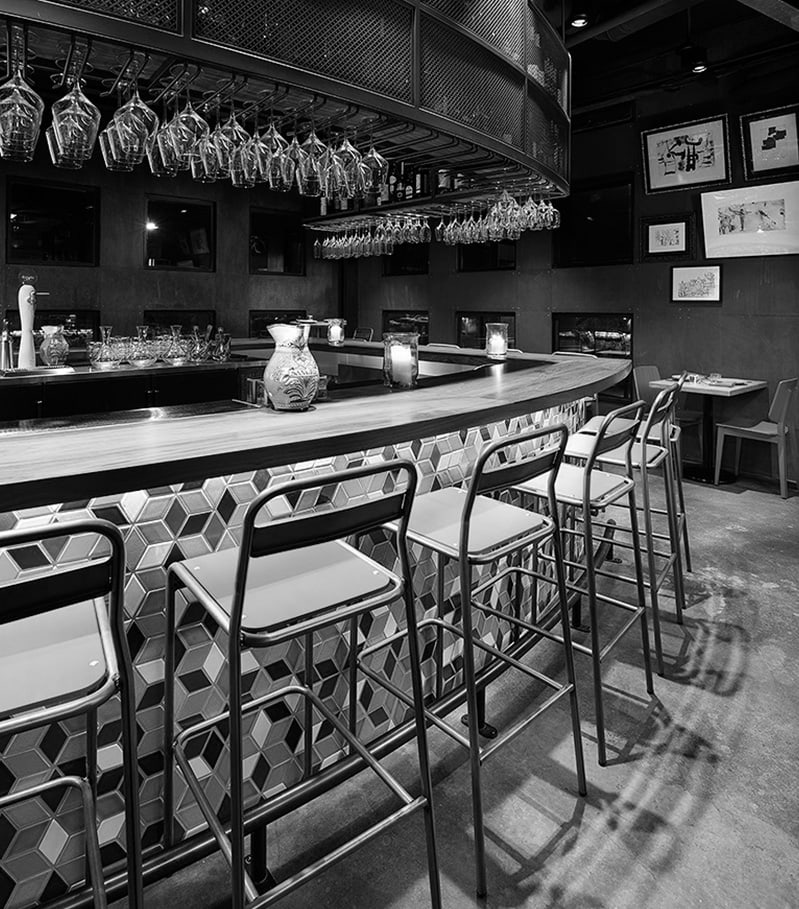 DETAILS & RESULTS
Telefèric seats 160 guests, including an intimate 20-seat dining room with pocket doors, a suspended millwork installation and intriguing details such as the Necker cube illusion of the cork board tiles. An additional 40 seats on the outdoor terrace are a natural extension of the interiors with a similar palette found in the floral, graphic tiles and industrial furniture.
The design affords Telefèric the flexibility to smoothly transition between breakfast, lunch and dinner. Decorative light fixtures that vary in size and shape are strategically located through the main and private dining areas to offer color and define the space. Modern mesh shelving and tile boasting a cubic, diamond motif cover curved, vertical surfaces. Patterned metal screens and other thoughtfully selected furnishings accentuate the wide variety of distinct dining zones throughout the restaurant.
COLLABORATORS: XAVI PADROSA, SOLEDAD URABAYEN, MICHAEL IGLESIAS, JESSICA SACKLER AND MARISSA TUCCI