THE ICON
The Dream Inn has been a Central California Coast destination since its establishment in 1963. Originally a 4 story low-rise, The Santa Cruz Dream Inn now has an additional 10-story tower and boasts 165 ocean-view guestrooms. Arcsine was commissioned by development group, Ensemble, to refresh the classic, Mid-Century design, giving its retro vibes a fresh and contemporary feel.
Known as the only beach front hotel in Santa Cruz, the historic destination hosts visitors of all ages from vacationing families to traveling business guests. 'Beachy, retro and playful' were design buzz words that led to a palette of teals, tropical blues and shades of tangerine featured in lively art pieces, vibrant fabrics and wave-inspired patterns found throughout the hotel.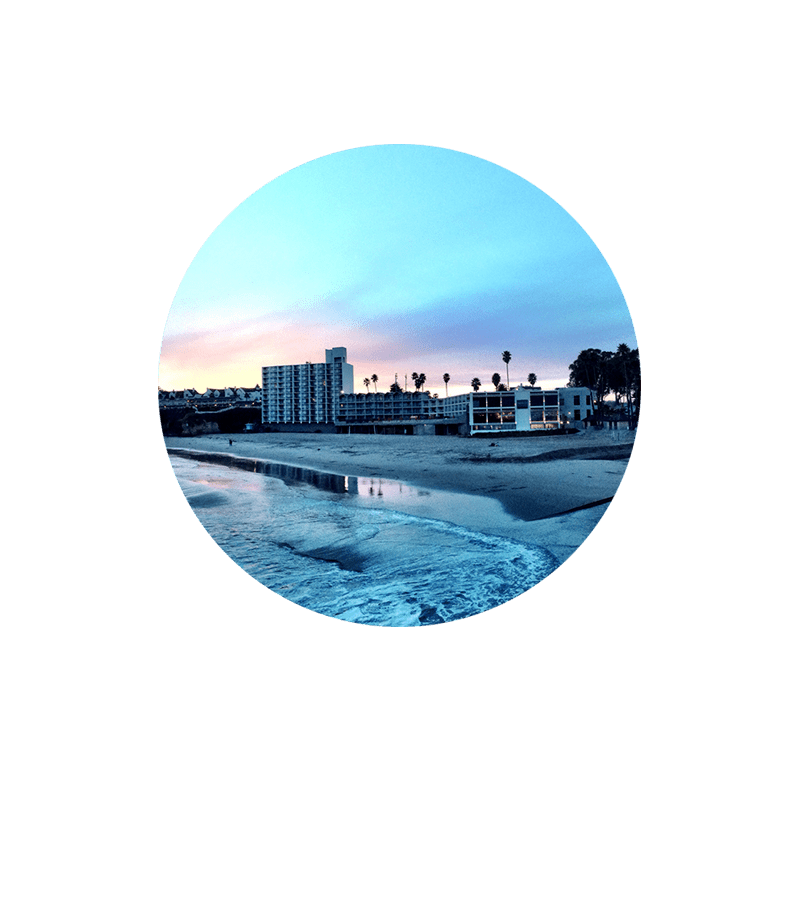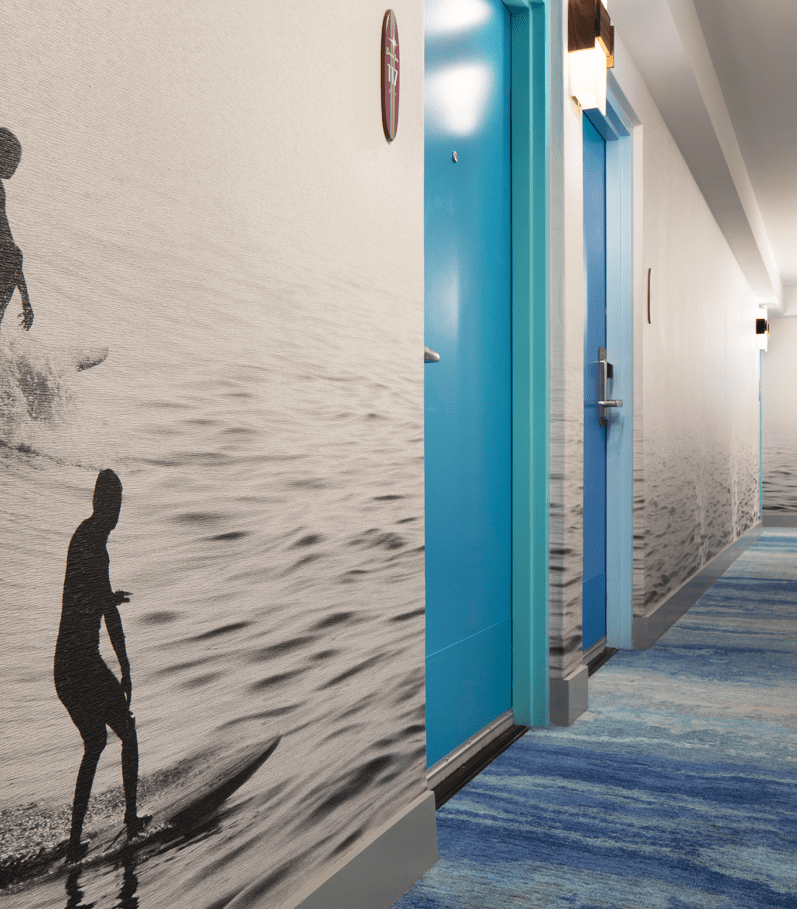 DREAM IN AND STAY AWHILE
Upon entry, a colorful new lobby design offers a relaxing social space to welcome patrons and initiate the experience of quality service expected during their stay. A brightly colored beach cruiser, coffee cart serves local roaster, Verve, and a variety of grab 'n go treats. Banquette seating book ends the lounge area with a central extended table of live edge maple, bringing to mind 'where the mountains meet the sea' on this beautiful stretch of California coast.
At reception, laser cut wood panels reminiscent of the property's logo line the back wall surrounded by a palette of teals and blues. Atop a fluted wood die wall, a surfboard-inspired, glossy countertop welcomes guests and has a subtle watermarked starburst dyed into the tri-colored wood surface.
Along an expanse of wall beyond check-in, a gallery of surf boards pay homage to surf company O'Neill with a historic display of surfboard innovation arranged by decade. The well-known brand was established on the very same ground as the Dream Inn and is held in high regard as demonstrated by the in-house bar, the Jack O'Neill Lounge, as well as the diverse use of surf culture, boards and imagery employed by the design team in the corridors, lobby and guestrooms.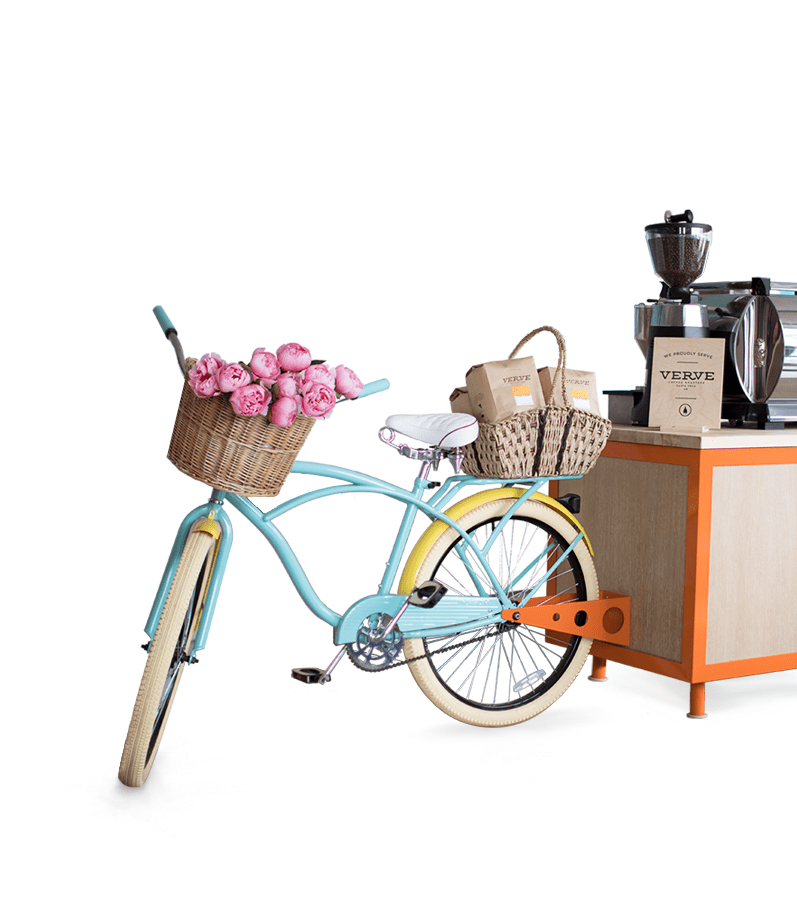 A contemporary take on Mid-Century Modern carries the aesthetic that is embedded in the hotel's history and embodied in the architecture.

DETAILS & RESULTS
The playful atmosphere of the Dream Inn is particularly celebrated on the journey to each room. As guests ascend, underwater images lining the elevator cabs build anticipation for sun and swimming. At each guestroom floor, black and white surf imagery coasts down the hall, punctuated by bright pink surfboard room signage embellished with the iconic star logo.
As you enter your guestroom, you're welcomed by wall-to-wall beachfront windows and a joyful collection of art. Suite walls feature a brilliant large scale mural of wave photography at the entry. Surfboard inspired wood tables are paired with heavily textured textiles offering a punch of color and invoke a retro, casual vibe. Teal fabrics and white-washed wood tones cool the room design and are accented with bright white surfboard-patterned linens. Oversized sconces with glass globe shades arch over each nightstand and contribute to the sparkling atmosphere of fun, known by patrons to be a signature part of the Dream Inn experience.
The main outdoor attraction is the renovated beach front pool deck, bordered by a glass railing that allows unobstructed views of the expansive Pacific Ocean. Dotted with cabana beds, pillows and an abundance of turquoise and cobalt chaise lounges, the pool deck was designed to stay all day. Yellow retro beach umbrellas shade sunbathers from midday rays, and rubber pebble decking offers a sand-like surface that is easy on bare feet. The walk up food and beverage kiosk, featuring a surfboard bar and chalkboard menu, has a nearby adult zone with sofas, fire tables and ice buckets at the ready. The hot tub was relocated and the pool depth was shallowed to accommodate more leisurely pool activity.
In summary, the Dream Inn's comprehensive renovation is a welcome refresh to those who know the history and stay for the fun. Arcsine relished this opportunity to breathe renewed life into this iconic California destination.
COLLABORATORS: ENSEMBLE AND THE NESS GROUP