A Q&A with Jake Freed of Shiba Ramen and Periodic Table
By: Patrick McAndrews and Kate Barton
Emeryville's new champions of sake are Jake Freed and Hiroko Nakamura. Jake and Hiroko, the scientists-turned-restaurateurs team behind the successful Shiba Ramen locations will soon open The Periodic Table, a beer and sake bar for the beginner and seasoned sake enthusiast alike. With construction underway, Arcsine's Patrick McAndrews sat down with Jake for a little Q&A.
PM: You are bringing a sake bar and beer taproom to Emeryville, is there a sake community you're trying to tap into?
JF: Yeah, there's a little sake community out there. Some are really boutique-y shops, and you can find a pretty good selection at some Japanese markets, but these aren't places you can sit down and really drink sake in a bar context. They talk about sake in technical language; characterizing everything as Junmai Daiginjo or Daiginjo, or another. These classifications are based on how much the rice is milled or other aspects of production. For beginners, it's going to be a complete turn off.
PM: What is the Periodic Table going to do to attract these beginners?
JF: For me, I just want to drink something good, which means we need to democratize the way we sell the product, the way we present the product. We've started doing that with ramen at Shiba Ramen. We don't name anything shoyu or shio. Our shio ramen is called 'Clear', our shoyu ramen is called 'Clear, Dark'. The abura soba is 'Dry'. The toripaitan is 'White Bird', the tonkotsu is 'White Pig'.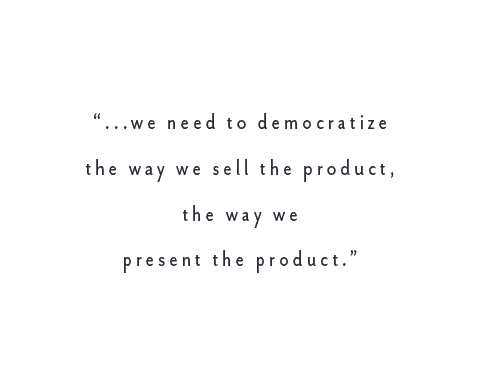 PM:  So you want to introduce sake in a more comfortable and familiar way?
JF: What we want to do with sake is bring people in with the promise of beer and wings. The Periodic Table is a bar where you can get beer and wings and we'll have this strong side focus on sake. Once we have people in there watching a Warriors game, or drinking beer, we can find a way to get them to try some sake. A brewer can come from Japan and give a talk. I used to be a teacher, I can give a talk about the product.
We're also going to sell sake off-sale, meaning you'll be able to buy it to drink at home. We'll set up a good experience for you in the store and then if you like it, you can take a bottle home. People tend to think sake is an expensive thing, and they don't have any relationship with it outside of a sushi restaurant.
PM: And you want to change how people view sake outside that context?
JF: Exactly, we want to change the way people view it. My favorite anecdote while I was going around Japan on sake brewery tours last year was the tale of a couple who came to our sake and oyster night in October. They're 40-something year-old white people who live in Emeryville and they have three kids. They're out on Friday night because their kids are teenagers and probably driving them nuts. And they came down to public market to drink, they actually had ramen at a different restaurant for lunch. But it didn't stop them from having ramen at our restaurant for dinner.
They had two flights of sake, they bought seven small bottles and they drank them all, sitting there. And then came and bought three bottles to go. We are trying to find people like that, who don't look like sake drinkers. These were normal folks from Emeryville and they were really into it. I'm sure there are a lot more people like that. People just haven't had the exposure.
PM: It seems like a large part of achieving your goal of democratizing sake will be repackaging it. How do you do that?
JF: Yes. What drives me nuts about ramen places and sake (if you actually want to sell this stuff) is every bottle has Chinese character brush strokes [written Japanese uses Chinese logographic characters, known as kanji]. The customer looks at the bottle and they are now lost. They have no idea how one bottle is different from any other bottle. We're looking for a brewery who will make a product for us and let us put our label on it. We'll work with a graphic designer to do the great things that have been done in the beer and wine space. We will give it an English name. When you have a five-syllable Japanese name and a brush-stroke, and then you say "well it's a Junmai Daiginjo…"
PM: No one is going to remember.
JF: No one remembers anything. They might think it was good, but they've forgotten what it was as soon as it was poured. We'll give them visual imagery. We want to change the branding model but it is going to be a process to work with breweries in Japan to get there.  There's an emerging sake industry in the U.S., too, so there's the potential for domestic collaboration. We'll keep hammering away and eventually we'll have a sake that we label "The Periodic Table," and we can serve it in every Shiba Ramen that we own. And with The Periodic Table concept, that too is scalable. If this works [in the Emeryville Public Market] it's going to work in other places and we can try to get it in grocery stores. So, that is one long-term project but it's one I feel optimistic about.
PM: That's great. You touched on your motivations, about why you and your wife, Hiroko, would be doing this, it seems you have the connections and there's that teachable moment that you can follow through with.
JF: Yeah, I think that's why we did this ramen thing. We had no restaurant experience, we don't cook, but we are chemists and making ramen can't be more difficult than doing some of the chemistry work that we did. We should be able to figure it out empirically and then it's all about process and reproducibility, process control. And Hiroko's got the Japanese angle. I'm a lawyer.  There are a lot of things that we can do for the business, a lot of value we can add, that has nothing to do with being a chef long-term or even working in the store. We can translate culture and we're good at identifying things from Japanese culture or food that actually might be popular here.
I'm a big believer in giving people imagery and a language so they can relate to the product. So we really said, "Let's try to convert ramen into something [else]." Repackaging an authentic product into something that will jive with Americans.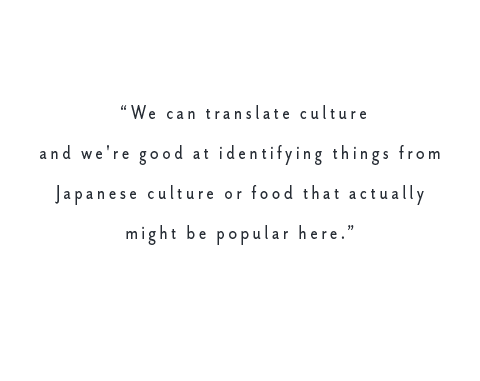 PM: Let's go back for a second, you mentioned your teaching experience. What is your teaching background?
JF: When I was an undergraduate, and when I was in graduate school, I taught organic chemistry. It was every semester for seven years.
PM: I went to a tech school for undergrad and I always heard horror stories of the dreaded "O-Chem" being the hardest course at the school.
JF: I think it has the worst reputation.
PM: A way to weed-out students in bio-chemistry and pre-med, right?
JF: But if you're good at visual, spatial things, organic chemistry shouldn't be that hard. There's no math involved which was what I liked about it. I was never into math. But if you can imagine how molecules come together and break apart and bonds can be formed and how electrons might move to make the bonds, there is this core set of concepts and if you get them, you'll get it. But a lot of people, I think, in pre-med especially, just try to memorize every reaction and memorizing without understanding why you're memorizing it, you know how that goes.
PM:  It doesn't go well.
JF: Yeah, I taught lab classes in undergraduate and then in graduate school. I was the head teaching fellow of a graduate-level organic synthesis course and did all kinds of work in that area. Then I vanished from science.
PM: To become a lawyer; do you still practice?
JF: I do.
PM: In summary…You own and operate two restaurants, are in construction on a third, you are a practicing lawyer, and you have a young child.
JF: And negotiations on a fourth.
PM: How many hours do you sleep a night?
JF: It's frequently in the six-hour range which is not enough.
PM: Not horrible, though. How do you keep yourself motivated? What really keeps you coming back for more?
JF: I'm big on long-term goals. In a few years, we'd love to live in Japan and study sake for a year, once we've grown the business a bit more. I endured the PhD even though I knew I was leaving science and I endured law school. I'm good at enduring things for a long time if I know there is a goal at the end. When you see your idea coming to fruition and getting built, that reinforces the motivation. When you get to spend time selecting tile or pendant lamps, as tedious as it can be, we like it and it's fun. When we negotiate another lease and we have another opportunity come up, that's motivating. These things happen along the way that affirm 'okay this is why I'm doing this'. Ultimately, we are going to build this to a critical mass and then, hopefully, we'll be able to have an organizational structure in place where Hiroko and I can really focus on product curation and marketing.
PM: Thank you for your time, I enjoyed talking with you. All of us at Arcsine are looking forward to seeing The Periodic Table open for business soon.
If you want to try Shiba Ramen, you can go to their two locations; Downtown Oakland and the Emeryville Public Market. The Periodic Table is now open at the Emeryville Public Market, right next door to the Shiba Ramen location. If you'd like to read more of Jake's approach to food, science, and design, head over to http://www.ramenchemistry.com. Keep an eye out for updates on The Periodic Table and Arcsine's other projects at http://arcsine.com/blog/.